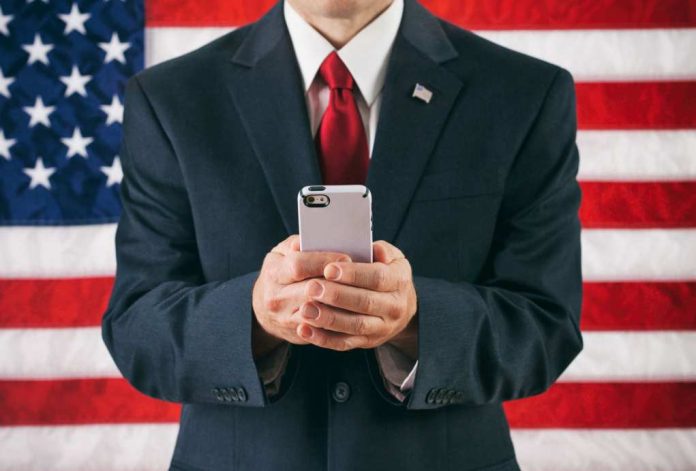 President Biden got on a call on December 27th, 2021 with governors. While on the call he agreed that "there is no federal solution" for how the country should handle the COVID-19 pandemic.
However, this statement contradicts the actions of his administration that is continuing the push for a federal solution. While on the call, he agreed with Republican Governor Asa Hutchinson of Arkansas.
What Happened on the Call?
Governor Hutchinson is the chair of the National Governors Association. He said on the call, "One word of concern or encouragement for your team is that as you look towards federal solutions that will help alleviate the challenge, make sure that we do not let federal solutions stand in the way of state solutions".
Governor Hutchinson continued, "The production of 500 million rapid tests that will be distributed by the federal government is great, but obviously that dries up the supply chain for the solutions that we might offer as governor." As a response, President Biden said, "There is no federal solution. This gets solved at the state level."
However, even though this is what President Biden claims, his actions speak louder than words. Currently, the federal government has played an important part in pandemic legislation. For example, there continues to be mask mandates on public transportation, in airports, and on airplanes. There are increasing fines for those who don't comply with the mandate and there is a push for vaccination mandates.
Biden Contradicts His Statement
President Biden outwardly went against his stance on a federal solution on December 28th, 2021 in a tweet.
In the tweet he says, "My Administration has the back of every governor fighting COVID-19 in their state. Last week, I rolled out a federal plan to tackle Omicron by adding vaccination and booster capacity, hospital equipment, staff, and more." To top the tweet off, President Biden added, "We're going to get through this by working together."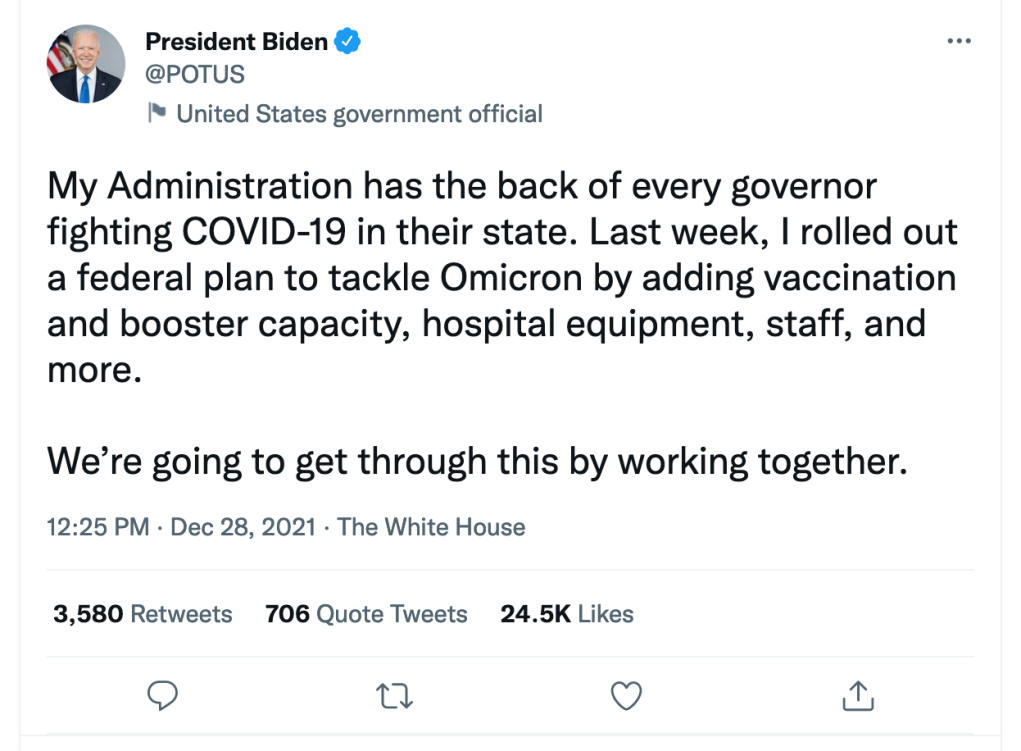 While he aims to acknowledge the Governors in the beginning of the tweet by saying he supports every governor, the tweet didn't end there. He continues to talk about the federal plan. If there is truly no federal solution, that federal plan should go into assisting the states that request help from a state level, not a federal one. Perhaps it was just poor phrasing, but it could be more sinister than that.
Biden is a self-proclaimed "gaffe machine". He tends to mix up the accuracy of numbers or words in a sentence. For example, when discussing COVID deaths he said there were 6,114 "military COVID deaths," but what he meant to say was Michigan deaths.
Maybe he didn't properly type out his words when sending his tweet. This gives the audience the chance to misconstrue his words. However, many Americans agree that a president should not be consistently making mistakes like that.