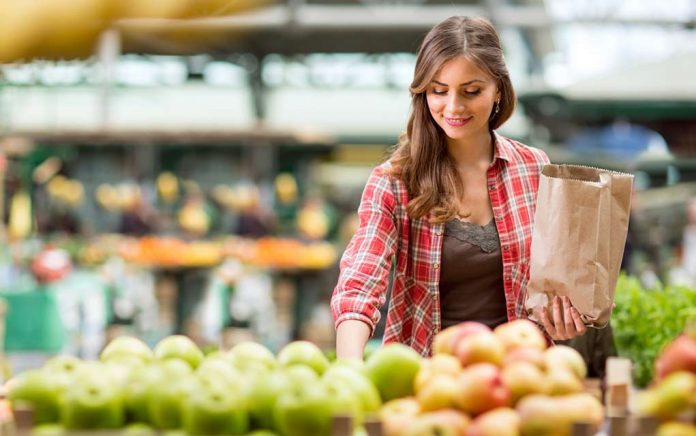 The price of groceries is always on the rise. With that, it can be hard to find good deals and keep your cupboards stocked. The good news is, there is help on the horizon. You can actually get paid for grocery shopping for yourself and as a side gig — for others! Let's dig in, and we'll show you how easy it is.
Start by Getting Top Coupons
Most people know you can get manufacturer's coupons from the center circular in the Sunday paper. This gives you a variety of the latest coupons on products both old and new. These are great to add to your stockpile.
From there, sign up for coupons via email. Sign up for big sites like Smart Source and Slick Deals. Companies like InboxDollars will pay you up to 10 cents for every printed and redeemed coupon.
Match up Coupons With Store Savings
Every store has sales that go on each week, so you'll have to match up coupons with what's on sale to get the biggest discount. But in order to actually make some cash back, you'll need to get the items to ring up for free.
This means taking advantage of things like Catalina coupons as well as loyalty card holder savings. Catalinas are printed off at the register, and you can sign up for store loyalty cards online for free.
Mix and match all of your coupons and also shop at stores that offer double or triple coupon savings. This may take some time, but it can be worth it if you can walk out with free groceries and maybe even a few bucks in your pocket.
Don't Forget About the Apps
Another way to get rebates and cash back at the store is to sign up for apps that reward you for your shopping tasks. The Penny Hoarder notes that combining popular coupons with app rebates is one way to get groceries and other items for free. Discover these apps:
Checkout51 gives you updated new offers daily and weekly. When you make a purchase, snap a photo of the receipt, and they send you cash back.
Ibotta has you complete simple tasks and surveys to unlock specific rebates. Scan barcodes on selected items and submit a photo within 48 hours.
Try both to maximize your savings.
Stack and Match Deals
Combine everything — manufacturer coupons, Catalinas, store specials and store only loyalty savings — with your apps. This is the best way to save the most and get a little money back.
An easy way to track everything is through a coupon matchup site like $5 dollar dinners. The site lists the deals for you, taking out the time and complication from doing it yourself. Some apps may also give you an extra cash back in the form of a paper rebate for spending a specific amount. You can download more than one app that pays you for grocery shopping.
Get Paid to Shop for Others
If you really want to have more money in your pocket to get to the store or to just build up your savings account, start making good cash by getting paid to get groceries and food for others. Sites like Shipt and Instacart can start matching you with clients after you complete a quick application process.
Shipt work is distributed on demand, so you'll compete with others for each job. Once you shop, you'll deliver those items to someone's home. Keep in mind the costs for gas and mileage. Both pay between $15 and $25 an hour. 
The more you're able to get for cheap or free, the more you can put toward your savings or that dream vacation. It may seem too good to be true, but others have saved big this way, and so can you. With a little ingenuity and effort, you could save hundreds on groceries each year. You might even earn some cash while you're at it.
Copyright 2021, DailyProsper.com