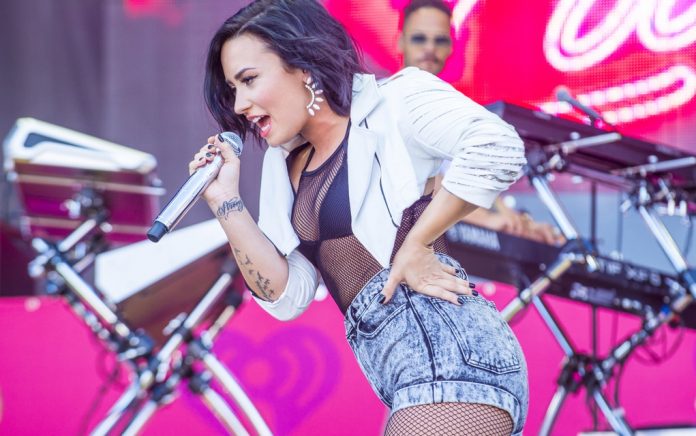 (DailyProsper.com) – Do you admire pop superstar, Demi Lovato? Interviews and shows make it easy to see why. She always seems so full of confidence and ready to take on the world. Wouldn't it be nice if you could feel like that everyday?
Well, here's something you might not know: Demi might be on her game now, but that hasn't always been the case for the pop diva. In fact, she's gone through some serious challenges in her short 25 years: mental illness, drug addiction, a rocky childhood, and even issues with fickle fans over-focusing on her weight.
With so many challenges, a busy life, and so much potential for negativity all around her, Demi has to be proactive about her mental health. And there's a lot you can learn and apply to your own life from her empowering story.
Knowing Her Identity
One of Demi's first realizations that she struggled with was her sexual identity. Not being able to fit in with what she was taught to be normal, she learned to hurt herself through cutting to help dull the pain. As she shares in Teen Vogue; "I'm very fluid, and I think love is love. You can find it in either gender."
When she came to embrace who she was, she found freedom in relationships rather than trying to categorize them. This freed her up to focus on finding people who loved her, supported her, and really wanted to be a part of her story.
Meditation
Another way Demi stays grounded is through meditation. She told Closer Magazine how the practice transformed her in a recent interview.
"I meditate every day for 10 minutes to ensure I stay on the same path. I find meditation and therapy vital for staying positive."
The fact that she does this daily, no matter how busy her lifestyle gets, also matters. Because at the end of the day, meditation works best when you do it regularly. But it's also just about finding a few minutes of peace in the day's chaos.
Living an Active Lifestyle
Demi prides herself in making health and exercise a priority, but her relationship with them hasn't always been perfect. She recalls in People that she once battled an obsession with orthorexia. Working out became an addiction in its own right, and she quickly began overdoing it while heavily restricting calories.
It was an unhealthy way to lose weight.
But the beautiful pop star did eventually find a way forward with a healthier alternative:
The lesson here is to find an active outlet that you enjoy that doesn't cause you more stress when you do it. Kickboxing, rowing or cardio spinning are fun options that can help keep you grounded and promote good health.
If you can relate to Demi with her personal struggles, try some of her lifestyle tips and see if they can help you. Staying grounded and getting through the tough days is something we all need to work through.
~Here's to Your Success!
Copyright 2020, DailyProsper.com