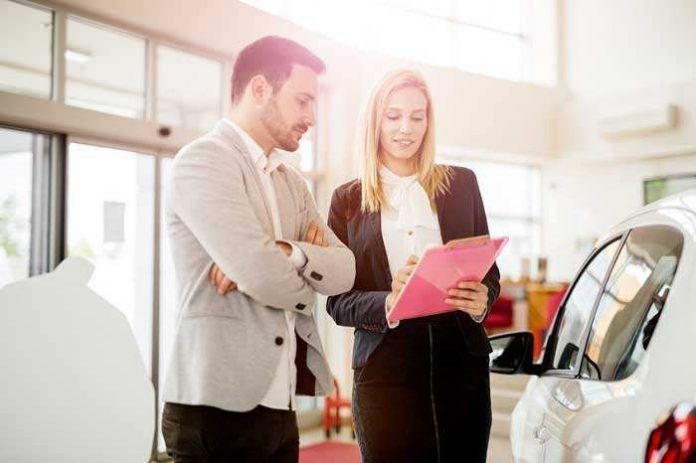 Wondering what to bring when buying a car? You've come to the right place. The process of having to buy a car can be daunting. It can be even scarier if you've never gone through the process before. Fortunately, we are here to cover everything that you need to bring with you to buy a car.
There are numerous ways that people can handle the process of buying a car. There are a variety of components that you need to deal with when it comes to shopping for your next car. Before beginning the actual search, you will want to decide whether you want to buy from a private dealer or a car dealership. The recommendations for what to bring to dealerships when buying a car vary from the recommendations for what to bring when buying a used car from a private party. So, let's start there!
The Difference Between Car Dealerships and Private Dealers
When it is time to buy your car you want to compare all of your options. This means looking past traditional car dealerships and looking at all avenues. You may find that you can more readily afford some of the prices set by private dealers. Maybe you prefer the convenience of buying a car online. Perhaps the process of a dealership is better for you. Regardless of your reason, you will need to figure out which option would be best for you. Each option has its own advantages and disadvantages.
What To Bring To Dealership When Buying A Car
Car dealerships are a great option for people who want to feel more secure with their auto purchase. Car dealerships can be legitimate businesses. This means that they have regulations to adhere to as well as an image to uphold. You also have financing options through the dealership! However, car dealerships may try to upsell or may not be as legit as they seem. You still need to be wary when it comes to finding the right place to buy your car.
1. What Do I Need to Bring to a Car Dealership?
Before you enter a dealership you want to get a list of the important documentation you may need. The best course of action would be for you to have some common documents in order. You don't want to purchase a car too quickly before properly comparison shopping. However, it may be beneficial to have this documentation ready just in case you find a gem of a deal.
Many people don't know what to bring when buying a car. Sure, you know you need to bring your down payment and a valid driver's license. However, you may still be wondering what to bring when buying a car. Fortunately, the documentation is actually common and easy to obtain! Some key paperwork you will need to have include:
Your Driver's License:

This is important because you need to be able to verify your ability to drive and your identity. Both of these are verified with a driver's license.

Proof of Insurance:

When buying a car, you will likely need to have proof of insurance. This is required by law in almost every state. The reason that you will likely be required to show proof of insurance is for the safety of everyone. Accidents happen all the time, you want to make sure you are prepared for the unexpected. Your insurance agent can provide you with the documentation you need if you're unsure.

Financial Information

: If you plan on financing your car through the dealership you want to make sure you have any financial information you may need. You can also call and see what information they may need before looking at cars in person. They will typically run a credit report to ensure they're selling a car to someone with a good credit history.

Proof of Residence

: You can provide proof of residence by bringing in mail like a property tax receipt, a utility bill, posted mail with your name, a lease, an insurance card, etc. There are many forms of documentation that can apply.
Now that you know what documentation to have ready, you can think about the car buying process. When looking for cars you want to make sure you find a vehicle that fits your lifestyle.
2. Figure Out What You Want Your Car to Have
Not every car will be a great fit for every person. Keep in mind affordability when car shopping. Even though you would like the newest, technologically advanced vehicle, that may not be in the cards for you right now. Besides price, you need to keep in mind features.
Do you want a car with top-rated safety features? What about a car that feels comfortable when you sit in it? Will there be rough roads that you drive on? There are many aspects that you need to keep in consideration when trying to decide on the car you will buy. There are free questionnaires online that you can fill out that can help you decide which car would be a good fit for you.
3. The Price Must Be Right
The beauty of dealerships is they upload a majority of their inventory online to a website. This gives you the opportunity to look at multiple vehicles within your price point. You will need to evaluate your budget in order to find the best price point for your next car.
4. Do You Want a New or Used Car?
Car dealerships have both new vehicles and used cars available for purchase. You need to make a decision on whether you want a new vehicle or used. It is important to note that new cars typically lose value once driven off the lot. Generally, a car will lose an average of 15% to 20% of its value each year of ownership.
5. How Will You Pay for the Car?
There are many different ways you can handle purchasing your car. The most common ways are to use a third-party auto loan or to finance through the dealership. Other people opt to pay for the entire car upfront in cash but that typically doesn't happen often. When deciding between going through your bank and the dealership to deal with your car purchase, you need to make sure you educate yourself.
6. What Documents Do I Need to Get a Car Loan?
Regardless of choosing between the dealership and a financial institution for your auto loan, you will need to have documentation ready. Similar to preparing to go into the dealership, you want to make sure you prepare the documentation you need for your loan. Some necessary paperwork to bring include:
All Different Proofs

: You will need to supply multiple forms of proof. Documentation will need to show proof of identity, residence, income, and insurance. these are known as eligibility documents and are essential things to bring with you when car shopping.

Vehicle Information

: Details about the new car you are looking to purchase will need to be provided. You may also be required to have more vehicle documentation if you are doing a trade-in – this can include service records on the vehicle, current vehicle registration, the vehicle identification number, and more. Having this information ready will make it easier to get a quote for the trade in value.

Credit and Banking History

: This will provide insight to the lender about your ability to manage payments. You may need to bring recent pay stubs and bank statements, too. Unpaid or late bills may hamper your ability to get a car loan.

Payment Method

: You may need to provide some sort of down payment in order to qualify for any loan. If you don't have a solid down payment, you'll pay higher monthly payments for that new car – so budget accordingly.
All of this information varies based on your lender. The best way to confirm the information you need is to contact the institution you plan on getting your auto loan from.
What To Bring When Buying A Used Car From A Private Dealer
Wondering what to bring when buying a used car from a private party? You should expect to prepare for a private dealer the same way you would for a car dealership. However, there are some differences that you need to be aware of.
Private dealers have an increased chance of being a scam. This is a similar risk when dealing with online sellers as well. It is important to know that private sellers may offer fewer financing options as well. Typically online sellers and car dealerships will allow financing but private sellers usually require the cash upfront at the full amount – so you won't be able to get a car loan when going private. You'll typically have to pay full price in cash or get a personal loan through your bank.
As such, you need to do your due diligence and carefully vet the private party before showing up. The last thing you want to do is waste your time or worse – get scammed and lose thousands (or tens of thousands!) of dollars. So, now that you know what to bring when buying a car, let's go over a few more tips you should know.
Additional Tips For Buying A Car
Once you've taken the time to adequately prepare for the car buying process, it is time to shop! You are now ready to look for your dream car. If you plan on going to a dealership there are times that would be best for you to visit. If you want to increase your chances of finding a better deal you should expect to start shopping either late in the year or late in the month. When using a private dealer, these guidelines don't apply.
1. Choose a Good Date to Make Your Purchase
Even though you know the best times to go to the car dealership, life may not work out that way. While it is important to be cognizant of those times, it works best to follow what works for your schedule. You want to find a day that you have a lot of free time to dedicate to the car buying process. Even if you go to a dealership completely prepared, it may take longer than you expect.
2. Check Out Multiple Dealerships and Get Quotes
You want to visit as many dealerships as possible if you have the opportunity. The reason that you would want to have multiple quotes is to ensure you are getting the best price. You want to comparison shop so that you can see how each of your options stacks up against one another. Online searches can provide you with a list of dealerships that you may want to check out. Once your list is together, it's time to begin!
3. Found the Right Car? Negotiate the Price
Compare the price that the dealership is asking for to the value of the new car you want to buy. There are free online tools available where you can provide the vehicle information in order to get a price estimate of the car's worth. You may want to consider beginning the negotiation process if you find that the dealership is overcharging.
To begin the negotiation process you want to lowball the dealership below their inflated asking price. For example, if a dealership is charging $20,000 for a car worth $17,000 then you should ask for $16,000. From there the process has begun. You want to make sure you show the car's estimated value and ask the dealership why their price is so inflated. Concrete proof is hard to dispute when negotiating prices.
4. Time to Seal the Deal
Hopefully, your negotiation worked if you needed to try to reduce the price. Now that your car is ready, you can seal the deal and sign the paperwork. When going through the signing process you want to be sure to read the fine print carefully. You need to ask any questions you may have to ensure you have a clear understanding.
5. Don't Fall Victim to Last Minute Add-Ons
Salesmen at car dealerships are professionals. This means they know how to analyze a situation and best decide what to do in order to make a sale. This includes taking advantage of the car-buying bliss that people feel when finishing up the paperwork. Some salesmen use this as an opportunity to offer add-ons for extra costs. Be aware of these tactics.
What Documents Should I Get When I Buy a Car From a Dealer?
Finally! After all the preparation and time put into the car buying process, you found a vehicle that you want to purchase. Now it is time for another phase of documentation. You will receive information from the dealership after you buy your car. You should expect to receive:
The Title

: This is only provided if the car is bought outright. If you finance the car, then you will receive the title once your loan is repaid. This documentation shows who owns the vehicle.

Bill of Sale

: This is essentially an official receipt for the sale of the car.

State Documentation

: You also may receive state-specific documentation. Each state has its own rules and regulations regarding what a dealership is required to provide the consumer. You can contact state offices to ensure you have a list of all the documentation you should expect.

Temporary Tags

: A majority of dealerships will give you a grace period of time to register your vehicle with the state. This is done so through temporary tags. They act in place of that registration for a specific time frame. Usually, the timeframe is thirty days.
Final Thoughts On What To Bring When Buying A Car
Well, there you have it – you now know what to bring with you when buying a car.
The car buying process can definitely be intimidating. However, if you take the time to properly research your options, then you could have a decreased likelihood of having buyer's remorse. Preparation is key. When you know what to bring when buying a car, you can set the tone of how you will manage the car buying process. Enjoy the process, and best of luck along your way to getting that new car!