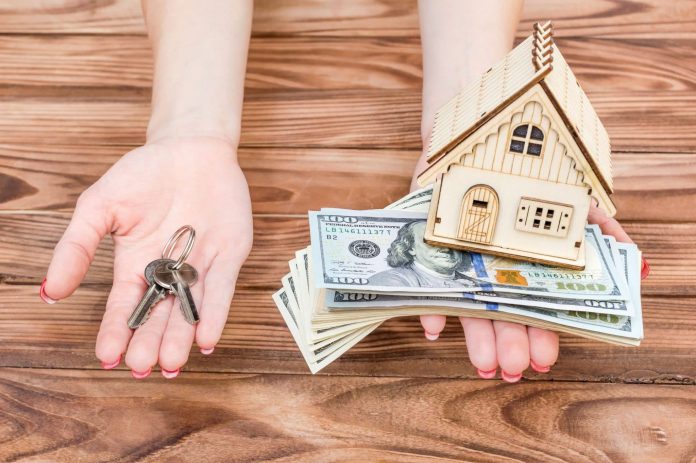 Down payment assistance is funding that is provided to homebuyers through either federal, state, or locally backed programs. You may be thinking, "how does down payment assistance work?" Well, this assistance option helps people get the financial assistance they need to afford a reduced down payment through different means depending on the program! Down payments can be a hefty cost that homebuyers need to prepare for. However, with some of these programs, it doesn't have to be something that they lose sleep over.
A downpayment is defined as a sum of money that a homebuyer will pay in the beginning stages of the home purchase. The amount that the homebuyer gives the lender will go towards the total purchase price of the home, and the mortgage will account for the remaining balance. There are variations of how a down payment can look, but this lump sum can be difficult for homebuyers to provide. It is important to note that a majority of down payment assistance options are only meant for first-time home buyers.
What is Considered a First-Time Homebuyer?
You can generally expect to see rigid guidelines when it comes to what is qualified as a first-time homebuyer. A good rule of thumb is if you haven't owned a home in the last 3 years, then you will likely be considered as a first-time buyer (even if you owned a home before the last 3 years).
Why do Lenders Require a Down Payment?
It's easy to hate extra expenses that you need to cover as a homebuyer. However, down payments actually serve a very useful purpose to your lender. Lenders take on a risk when they provide you a loan. Down payments can make you less of a risk to the lender because it shows how much you are invested into the home and reduces the amount you actually owe to the lender.
Down payment assistance comes in a variety of forms like grants, loans and other programs. Many different organizations offer this assistance option from a local, state, and federal level.
The specific eligibility requirements depend on the program you get. Some assistance options may require the homebuyer to fulfill additional criteria like a mortgage training process or finance maintenance.
How you will actually receive the funds varies on the program as well. Some offer assistance based on a percentage of the home's sale price, others limit assistance to a specific dollar amount, etc. When reviewing different down payment assistance options you should review the criteria of each program.
There are some professionals that may be able to help provide you information. You can either get in touch with your local public housing authority (PHA) or with a HUD-approved housing counselor.
Some forms that you can expect to receive down payment assistance in are:
Grants
Forgivable Mortgage Loans
Deferred-Payment Loans
Low-Interest Loans
Matched Savings Programs
Grants
Homebuyers consider this one of the most beneficial forms of down payment assistance because it doesn't need to be repaid! That's right, there are grants that provide funds to homebuyers that act like free money!
Forgivable Mortgage Loans
These loans are a type of second mortgage that won't have to be repaid as long as the homebuyer stays in the home for a specified number of years. Not only are the loans able to be forgiven, they also come with an interest rate of 0%. Generally, lenders forgive these loans after 5 years but some may require more like 15 or even 20 years.
It is important to note these loans will need to be repaid if the homebuyer moves before the forgiveness period is complete. For example, if your lender specified that you cannot move until after at least 5 years, but you move after 3 years, then you may be responsible for all or some of the forgivable loan.
Deferred-Payment Loans
This loan option is also another type of second mortgage, and it has a deferred payment. This means that the homebuyer will not have to repay these loans until they move, sell, refinance their first loan, or pay off their first loan. It is important to note these loans cannot be forgiven so they must be repaid.
Low-Interest Loans
During the finalization of your first mortgage, you may be able to take advantage of a second mortgage in the form of a low-interest loan. The funds from this loan can be used towards the cost of your down payment. However, if you choose this loan option, you will have two mortgage payments every month. Homebuyers typically choose this option when they want to reap the benefit of the low interest rates (or no interest rates).
Matched Savings Programs
These programs are also referred to as individual development accounts. This is another way that homeowners can handle their down payment expenses. With these programs, homebuyers will deposit funds into an account from a bank, government agency, or community organization. The institution will then match the amount that the homebuyer deposits and the funds can go towards the cost of the down payment. For example, if a homebuyer deposits $3,000 then the institution will match that so the homebuyer will have a total available amount of $6,000 to use.
There are a variety of down payment assistance options that you can consider However, some that you can consider are:
Chenoa Fund
Community Seconds
Federal Loans (FHA Loans, USDA Loans, VA Loans)
Chenoa Fund
This program is basically available nationwide, except in New York. This affordable housing program is provided by CBC Mortgage Agency (CBCMA). The Chenoa Fund can provide up to 3.5% down payment assistance. This can be helpful especially if the home loan you have only requires a 3.5% down payment (like with an FHA loan).
Recipients must have a minimum FICO® credit score of at least 620 and a debt-to-income ratio (DTI) of 45% or less. With this fund, you will receive a second mortgage that has no monthly payment and no interest rate. This program can also provide mortgage forgiveness if the recipient makes their mortgage payment on time for 36 months and has an income that is 115% less than their area's median income. If the homebuyer receives more than 115% of their area's median income then they will need to repay the down payment assistance that they receive.
This is a Fannie-Mae approved second mortgage that provides homebuyers the opportunity to receive funds from local governments, state governments, and housing nonprofits. The funds received can go towards the cost of a down payment, cover closing costs, or even be used to renovate the property.
Federal Loans
The government offers a variety of loan options that can allow homeowners to pay a lower down payment. While this may not be a form of down payment assistance per say, it provides homebuyers the opportunity to pay less for their down payment! There are three main types of government-backed loans and these include:
FHA Loans
USDA Loans
VA Loans
Federal Housing Agency (FHA) Loans
This loan is insured by the FHA (which is a division of the United States Department of Housing and Urban Development [HUD]). FHA loans provide homebuyers the opportunity to purchase a home with a down payment of 3.5% if their credit score is at least 580. If your credit score is lower than 580 but at least 500 then you would only need to provide a down payment of 10%.
United States Department of Agriculture (USDA)
Individuals that want to buy a home in a suburban or rural area may benefit from this type of loan. In order to qualify, the homebuyer must live in an area that the USDA approves as rural enough, and must meet income requirements. Recipients of this loan have the option to buy a home with no down payment at all!
The Department of Veterans Affairs (VA)
Active service members, veterans, and some spouses of service members who have passed away may be eligible to receive a VA loan. These loans can provide recipients the opportunity to buy a home with no down payment!
Down payment assistance can be a great way for individuals to achieve their dream of owning a home. However, it can be a complex process which is why you may benefit from reviewing some common questions that homeowners have when going through the process!
When Will You Receive Down Payment Assistance?
The amount of time it takes to actually receive the assistance depends on the program. Programs vary by locality and state which means they have different times of when the funds will be received. It is also important to note that a down payment assistance application could cause the home buying process to take longer.
How to Qualify for Down Payment Assistance
Again, requirements vary by program. However, a good rule of thumb is to have a credit score of at least 620, meet income requirements, and have a valid DTI ratio. Some other important factors that you may need to keep in mind include:
The Location of the Home
Your Buyer Status (First-Time Buyer)
Mortgage Training
You Must Stay in Your Home for a Specific Number of Years
You will need to review programs that are available in your area. HUD provides a variety of resources which can be a great place to start. You can review available opportunities by state on their website. You can also get in touch with your city and county to review local programs and go over their application process.
What are Some Tips that Can Help?
Tip #1: The better the credit score, the better the assistance that you will receive. If you have a score of at least 620 then it will be considered "Good". However, some options accept credit scores as low as 580.
Tip #2: You could receive a government assistance home down payment, but there are more assistance options than just government down payment assistance. This means that it is important to review what else is available to make sure you find the best option that works for you.
Can You Receive Down Payment Assistance for a Manufactured Home?
Manufactured homes can have their own set of obstacles when it comes to down payment assistance. The criteria varies by program. For example, if you have a VA or FHA loan then the manufactured home may be covered if it is secured to a base. Make sure to review the specific guidelines for the down payment assistance option that you are interested in.
Do You Need a Minimum Down Payment of 20%?
A common misconception that homebuyers have is the fact that they need to provide a down payment of at least 20%. That means that if the value of the home is $225,000 then the homebuyer would need a downpayment of $45,000 (which is a hard expense to cover!). While maybe at one point this was the industry standard, times are changing. In fact, the average down payment is just 6%. There are pros and cons to having a higher down payment, but you need to focus on what works for your budget and financial situation.
What are Some Benefits of a Smaller Down Payment? 
While the obvious benefit may seem to be the fact you spend less money, it is a little bit more in-depth than that. There are actually some attractive benefits like:
The Ability to Buy a Home Sooner
More Money Available for Home Improvements
A Better Emergency Fund
Overall
Down payment assistance can be a great help for homebuyers. The level of down payment assistance varies by program, but some could even remove your down payment completely. Make sure to review your options from both a local, state, and federal level. You may be surprised at just how many options are available for your financial situation.