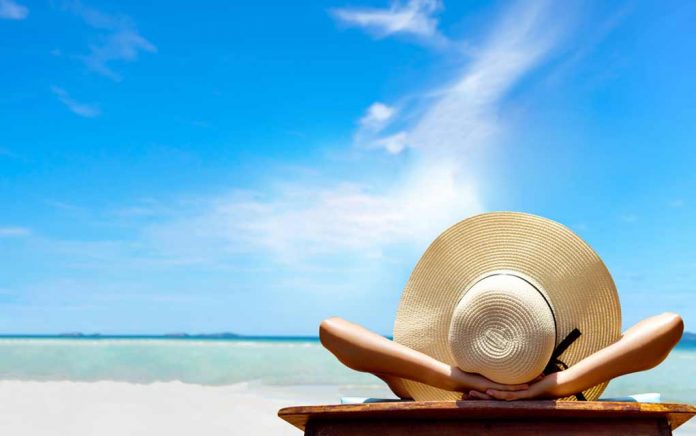 Do you want to make money while sunbathing at the beach? Me too! Who doesn't want a nice tan and some extra cash? While it may sound too good to be true, I wouldn't blow smoke up your skirt. This is completely attainable — if you think a little outside of the box. Let's talk about how to get our heads out of the sand and dip our toes in the surf while filling our pockets with cash.
Quick Read:
My happy place is the beach. But getting there takes at least gas money. I thought there was no way possible for me to get paid while relaxing in the sun, but I was wrong. Once I did some research, I began to see the very real possibilities of getting paid to lay on the beach. Happiness doesn't just happen, you know? I realized if I wanted something I need to go after it, and that's just what I did.
Get Paid While Sunning on the Beach
Destination Writing
What is the best way to travel more and get yourself out to those beachy places? Become a travel writer! This job has all of the awesome perks of getting paid while being on vacation in exotic places. There are sites dedicated to paying writers for their writing about various locations. Some magazines also pay for reviews of beaches, resorts and restaurants. Magazines like National Geographic, AOL Travel, Budget Travel and more. If you have extra time and are a real go-getter, you could even start a blog dedicated to your travels. This extra cash flow can be a nice addition to your income and sure doesn't feel like going to an everyday job.
Summer Lifeguarding
As a teenager, my dream job for the summer was to become a lifeguard. Of course, I never pursued it (too bad), but just because I'm older now doesn't mean I can't follow through with that passion from my younger years. All of the same perks that interested me back then still apply. Actually getting paid to sit on a beach or near the pool? Yes, please!
Getting my daily dose of Vitamin D, rockin' that awesome red one-piece swimsuit (think Pamela Anderson), and then ending the summer with a golden tan, beach hair and cool friends. Not to mention evenings off and a summer full of fun stories. Sign me up! But how and where can I get going on this?
Before you go all David Hasselhoff, you will need to meet some requirements for this job. Being certified by the American Red Cross is just one of the things you'll have to do before you can get started. Some others include a background check, being physically fit and the absence of any major health conditions. Lifeguards must be good swimmers and mentally prepared for the rigors of the job. After you get that all done though, check out the local amusement parks and pools and if you have some nearby, the beaches.
Reviewing Books
I love to read — so if I can make money by reading books and giving my opinion, I'm in! Spending my days laying on the beach reading the latest books is something I always believed to be a fantasy. But wow! I was wrong! There are sites that pay cash for you to review books, and some let you earn points and cash them in for money or gift cards. Check out Publishers Weekly, Upwork, Moody Press and many others to see what will fit best for your circumstances. Some of these companies will either let you keep the book after you have read it or will give you the book to read as an ebook instead of the hard copy version.
Selling Jewelry
Sitting on my towel, I like to keep my hands busy. From there, I can lay out and sell ankle bracelets, toe rings, bracelets, cute earrings, you name it. All of these items are simple to make — and if you don't already know how, Hello YouTube! Make beach-themed jewelry for an extra draw. Think seashells and dolphins. Every time I wear that particular piece, bought off the towel of a fellow beach-goer, I'll think of my favorite beach.
Something to keep in mind is that depending on the location, you may need to apply for a permit or a license to sell on the beach. Once your permit is approved, you have the green light to start making some quick cash. Having the permit or license goes for any type of service that you may be selling, whether it be face painting, henna art or drawing caricatures. Any time money is exchanged, you'll most likely need to have this permission for your biz.
The dream of laying on a beach and getting paid can become a reality for you, as it did for me. I love the fact that I am doing something I enjoy while cutting out unnecessary stress from my life. Who would have thought working could be good for my mind and body!