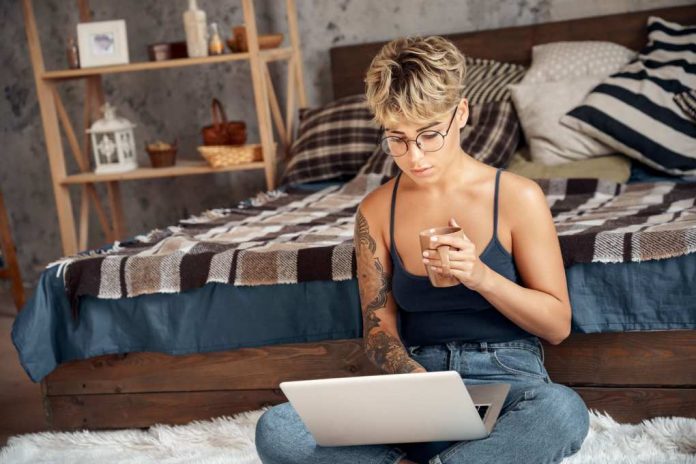 Looking for the best side hustles for introverts? We know how stressful and anxiety-inducing going door to door can be pitching your services. That's why today, we're going to unveil our personal favorite side hustle jobs for introverts like you. Many of these require minimal human contact – so you don't have to step outside your comfort zone if you don't want to (although we do encourage you to do so – it will inspire growth!).
There are many side hustles that are a great option for introverts. In fact it may be easier than you think to have minimal contact with other people while making money. You could have more options than you think! Many of these allow you to make passive income or make money online, too – eliminating that stress-inducing face-to-face time altogether.
We're not going to waste any more time – let's get right into our picks for the best side hustles for introverts.
What are the Best Side Hustles for Introverts to Make Extra Money?
Keep in mind that some of the best side hustles for introverts do require a bit of face-to-face time with potential clients – or existing clients. However, you'll find that most of these side hustle ideas for introverts are perfectly suited for your personality type. Let's start with one of our absolute favorite – pet sitting!
Job Option #1: Be a Pet Sitter
When people go out, they may need someone to watch their pets. Whether it is a clingy dog for an evening or an independent cat for two weeks, people need petsitters. If you don't mind watching exotic animals then you may be able to make more money with that specialty. There are apps that you can use to find employment as a verified pet sitter like Rover. You will need to be able to pass a background check, and it is free to sign up.
Job Option #2: Be a Dog Walker
If pet sitting isn't your thing, you can choose to just walk them instead. Rover offers users the ability to choose between pet sitting or walking. You can choose to walk dogs around your available free time.
Job Option #3: Deliver Food or Goods
Instead of driving around people, you can drive around food or goods! There are people that pay you to deliver food from restaurants or from the grocery store, etc.
Platforms vary in their benefits. Typically you can keep 100% of the tips that you make. However, even though this job is a good opportunity, it could have some unexpected costs. Since you are constantly using your car you could be spending more on gas. You also could have an increased chance of being in an accident since you are on the road more. Even though there are risks, this side hustle may still be able to benefit you! The best part is the fact that you can choose to do these all around your schedule.
Job Option #4: Take Online Surveys
Companies need to get feedback from consumers. That is why they get the help of platforms to get those survey results. You can earn money for your opinion, as long as you are in the targeted demographic. Surveys don't take long and are free to do!
The amount you get per survey will vary. The payment system that these survey platforms use varies as well. Typically they will reward you points which you can then redeem with a paypal transaction, bank transfer, or in the form of a gift card. You can also feel confident in this side hustle because millions of other people use these platforms as well!
Job Option #5: Finish Tasks Online
Similar to filling out surveys, some platforms may pay you to do other stuff on the internet. You may be able to make money from watching videos, shopping with cashback offers, and playing games. The amount you make varies on the task that you need to complete. There are many platforms but a popular one is InboxDollars.
These platforms are usually free to sign up for. In order to cash out on the amount of money you earned, you need to pick a method. Some methods you may encounter are with paypal, checks, gift cards, prepaid Visa cards, etc. However, you may encounter a fee depending on the method you choose.
Job Option #6: Become a Housesitter
Sometimes people take long vacations, other times they may take a weekend getaway. Either way, people may need a house sitter. House sitters are people that watch homes for people who are away. You may need to handle a variety of tasks from just staying in the house to indicate occupancy, taking care of pets, housekeeping, mail organization, trash duties, and more.
There are platforms that you can use to get employed as a house sitter. However you can also scout work for yourself. You can post on platforms like Craigslist and Facebook to enlist your services. It is important to be cautious when doing this. You want to make sure you house sit for legitimate customers.
Job Option #7: Sell Your Belongings
There may be objects that you no longer need. Instead of letting them sit still in your home, you can sell them for profit. There are numerous selling platforms that you can use. Some common ones are Ebay, Facebook Marketplace, Craigslist, and more.
There are physical ways that you can sell your objects as well. However, if you are looking for the best side hustles for introverts, then you should look with online platforms.
Once you are done selling your belongings, you can keep trying to flip items! You can buy low cost items from a thrift store, pawn shop, etc., and then resell them for a profit. However, if you buy some items, but are unable to resell them, then you will be stuck keeping them.
Job Option #8: Consider Mystery Shopping
Many people don't consider mystery shopping as a side hustle for introverts. However, it is actually a great option! Mystery shoppers are tasked with shopping at stores. Shoppers get repaid for their purchases and they will need to provide feedback about the store. Some of this feedback may include discussing the organization of the store, store cleanliness, customer service etc.
However, the store is not aware that you are a mystery shopper. Hence the word "mystery". This is like a pop quiz for stores in order to show the corporate side that they are handling the business properly. It is important to make sure you find a reputable company when looking to become a mystery shopper. You may come across some employment scams.
Job Option #9: Become a Blogger
Introverts with good writing abilities should consider this side hustle option. However, it is important to know that blogs typically don't have overnight success. Instead, it will take time to grow your audience. Once you are able to scale the blog enough, then you can make money.
Some ways that blogs make money is with marketing assistance. Using sponsored posts, ads, and affiliate marketing can help blogs become profitable as a source of side income.
Job Option #9: Digital Design Downloads
Do you have an artistic side? If so, this may be a great side hustle opportunity for you. You can sell digital downloads for more than you may realize. Digital downloads can be any creative like a  drawing, an online course, website templates, stock images, eBooks, and more.
When a company or individual purchases your listing, they will get a downloadable copy. From here, you can make money when people download your product.
Job Option #10: Freelance Writing
Another great side hustle for introverts, freelance writing may be able to help you sooner than a blog. While blogging may take time to grow to earn an income, freelanced writing is another story. Freelance writers can help companies produce content when they need.
The amount of pay that you will receive varies depending on the company. Also, you may not be able to choose the topic that you will write about. For example, a company may need financial content, but you prefer health content. If you aren't flexible, you can only write about your preferred niche. However, you may be able to make more money if you open up what you are willing to write about. Sometimes people start freelance writing as one of their side hustles, but it can turn into a full-time gig.
Job Option #11: Become a Virtual Assistant
A virtual assistant position is a great side hustle for introverts. This is an assistant position that is done online. There are a variety of clients that may need the help of a virtual assistant. This means that job roles will vary. However, you can consider some tasks of a virtual assistant to be research tasks, writing tasks, website updates, email responses, travel help, and more. It would be like a normal assistant position except completely online.
This is one of the best side hustles for introverts that can build your resume. Since your clients may require a range of different tasks, you may be able to diversify your skillset. Similar to a freelance writer, your part time position could potentially turn into a full time one if you find you are able to build up enough clientele and earn enough money.
Job Option #12: Check Out Taskrabbit
As technology continues to advance, so do job opportunities. There is a platform called Taskrabbit that provides the opportunity for individuals to rent out their time to complete tasks. You can specify your capabilities. For example, some people offer to put together furniture for a fee. Your skills can be geared towards your interests, or introverted ways. This is a great flexible option that is designed for your capabilities. The amount of money that you will make can vary depending on the area, job completed, job demand, etc. If you have spare time and like working with your hands, this is one of the best side hustle ideas for introverts.
Job Option #13: Become a Proofreader
Maybe you don't have a knack for writing. However, how is your proofreading? Sometimes clients need people to proofread work in order to ensure accuracy. Proofreaders may have to read anywhere from one page to hundreds of pages depending on the task. If you don't mind reading then this is a great option for you!
Job Option #14: Online Transcriptionist
Many people don't even know what an online transcriptionist even is! This is a job option that requires a person to turn audio files into written documents. You can transcribe Youtube videos, podcasts, and more! The pay of this side gig option is different depending on what you would be required to transcribe.
Job Option #15: Online Gamer
If you have a skill for online video games, then you may be in luck! People can play video games and stream the sessions online. If you have strong skills, you could generate a huge following base. Similar to blogging, you can then make money from your videos if you have a large enough audience. The best part? You don't even need to show your face! There are countless players that do not reveal their real identity yet still earn from playing video games.
Commonly Asked Questions about Side Hustle Jobs for Introverts
Above, we covered some of the best side hustle jobs for introverts. However, there are some questions that introverts may have when it comes to dealing with side work. Keep reading below to see if we addressed some of your questions about your new potential side hustle.
What Are The Most Profitable Side Hustles for Introverted People?
The amount of pay that a side gig can make varies. For example, if you have a rare collection of baseball cards then you could potentially make a lot more money selling those compared to starting a blog. The same concept can be applied for any of the jobs that would be a good option for introverts. What would be most profitable is dependent on you. If you are an excellent writer but don't know how to put furniture together, then you will likely make more with freelance writing compared to Taskrabbit. Make sure to consider what your skill sets are, though – don't try to become a freelance writer (or build an online course on freelance writing) if you're not up for the task.
How Can I Make Extra Money Without Talking to Anyone?
The best side gigs to make money without talking to anyone is filling out surveys or completing tasks online for money. If you want a job option that deals with a client, you will probably need to talk to them at least once. For example, even though as a house sitter you may not talk to anyone for the duration of the job, you will likely need to discuss details of the position prior to starting. The options listed above are tailored for introverts so you will likely not need to deal with talking to people too much.
What are Some Low-Stress Side Hustles for Introverts?
Not interested in a stressful side gig as an introvert? No worries! There are plenty of low-stress options that you can consider. However, some of the better side hustles for introverts that are also low-stress are writing gigs. These are low-stress because you will typically have a clear understanding of what you need to write and within what timeline. If the timeline is too short you can request an extension.
Other low-stress job options for introverts include becoming a:
Proofreader
Online Transcriptionist
Online Survey Taker
Blogging
Are There Flexible Side Hustle Jobs for Introverts?
Yes! A lot of these side hustles are able to accommodate any flexibility needed. These jobs are typically flexible because they are a secondary source of income. That means they will need to be around your primary source of income. This flexibility option is a great reason that people consider some of the jobs above.
Parting Thoughts on the Best Side Hustles for Introverts
There are many side hustle ideas for introverts – from freelancing writing to applying for virtual assistant services. Many of these side hustle jobs for introverts don't even require you to leave the house – helping you earn money online with just a few minutes of your time a day! Whether you're drowning in debt or just want to earn money for fun stuff in your spare time, these ideas are sure to help you achieve financial success. And while you'll probably start small, taking your income into your own hands in your spare time can help you become a millionaire in 10 years!
The best side hustles for introverts usually require little to no contact with other people and have job flexibility. There are plenty of options to consider. You want to see what your strengths and weaknesses are so that you can pick an opportunity that works for you. There are also plenty of online resources that can help you. If you want to explore other ways to make extra money on the weekend, check out our complete blog post!