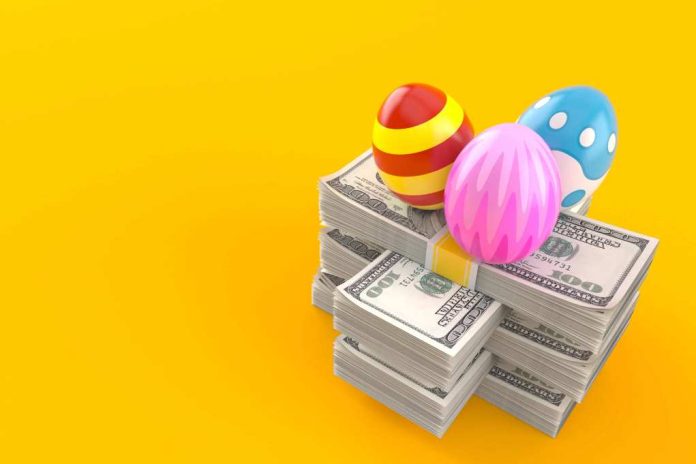 Easter is a Christian holiday that celebrates the resurrection of Jesus Christ. Even though this is a Christian holiday, it includes festivities that everyone can enjoy! This holiday is celebrated on the first Sunday after the first full moon after March 21st. That means the actual day of Easter can be any Sunday between March 22nd and April 25th. For 2022, Easter will fall on April 17th! Just like any holiday, it can be stressful dealing with the extra costs. Luckily, there are ways that people can work around this. In fact, it may be easier to save during Easter than you realize!
How to Save During Easter
You can still enjoy Easter celebrations without breaking the bank. You just need to plan to save! If you want to save money during easter, you can:
Plan How You Buy Candy
Plan Your Own Easter Egg Hunt
Create Your Own Easter Egg Dye
Make Your Own Decorations
Cook Dinner at Home
Plan How You Buy Candy
While you may want to buy candy right away from the first place available, that may not be the best idea. In fact, choosing when you buy candy and where you buy candy can make a pretty big difference when it comes to saving! First of all, you will want to find a good place to buy candy. Buying gourmet candy will not be the cheapest option. Instead, good retailers to consider include Target, Walmart, etc.
Now that you know some good places to consider shopping at, you will want to make sure you buy your candy at the right time. While the best time would be once Easter is over (that's when the heavy discounts typically start), you will want to aim closer to Easter. It's important to keep in mind that every store is different and this is just a general rule of thumb. That means you may benefit from checking out your store or even asking when sales will be coming up!
Plan Your Own Easter Egg Hunt
Some communities have organized Easter egg hunts that may require a fee in order to participate. However, you can save gas money, fee money, and more if you decide to do an Easter egg hunt at home! You can buy plastic Easter eggs and fill them with goodies. It's easier than you may think! You can hide eggs inside and outside to make the hunt more exciting.
Create Your Own Easter Egg Dye
Easter is full of holiday traditions. One tradition is to decorate easter eggs. However, buying dying kits and tools at the store can be expensive. That is why you should consider making your egg dye at home. It's super easy and you can find plenty of different recipes online. Typically, you can expect to need some food dye, water, vinegar, and that's it! Most people already have most if not all of these items in their household at any given time.
Make Your Own Decorations
Another way that you can save during Easter is by making your own decorations. While it may be easy just to buy overpriced decorations at the store, you may be able to make them for a lot less and have them look just as appealing! For example, let's say instead of buying an Easter basket, you can reuse a sand bucket instead. You could decorate the sand bucket with stickers, drawings, and more easter-inspired ideas!
Cook Dinner at Home
Since Easter is a holiday, many people feel the need to go out and get a nice meal. However, it may be better to just cook at home yourself! A common traditional meal that people eat for Easter includes a ham, roasted carrots, etc. Even making variations of these traditional foods can be an affordable option to consider.
Other Easter Savings Opportunities
Besides the ways listed above that may be able to help you save, you will not want to forget about local assistance. In fact, there are plenty of charities that help people in need during the holidays. For example, they can host a free easter egg hunt or even provide free easter baskets full of goodies. Since it varies by local charity you will want to review options that are around you. You may find that there is seasonal assistance to help during the holidays at a charity close to your home.
Additional Assistance to Consider
Besides saving during Easter, there may be other assistance options that can help you save throughout the year. The government provides assistance opportunities that are designed to help those in need. They have plenty of different programs but some popular options include:
Supplemental Nutrition Assistance Program (SNAP)
Housing Choice Voucher Program
Children's Health Insurance Program (CHIP)
Supplemental Nutrition Assistance Program (SNAP)
Groceries are a pretty big expense for Americans to deal with. Besides the cost, groceries are necessary because food is needed to survive! That is why it is especially important to be able to afford them, but that's where SNAP comes in. SNAP is a food assistance opportunity that is designed to help people handle the cost of groceries. This program provides funds on an Electronic Benefits Transfer (EBT) card to qualifying households. Households can then use these cards on eligible food items at stores that accept them as a form of payment. The amount that a household can get varies on income level, family size, etc.
Housing Choice Voucher Program
When you think of the necessities of life there are a few things that should come to mind. There is food, water, and shelter. While you may be able to get assistance with food and water with the other programs on this list, the Housing Choice Voucher Program can help you with shelter. This program, also known as section 8, provides housing vouchers to qualifying recipients. These vouchers can then be used to help cover the cost of rent at qualifying properties that accept them as a form of payment. Even though this is a national program, it is managed locally by your nearby Public Housing Authority (PHA). They will be the ones to help you with the application process, and be able to answer any questions you may have. This is a popular program so it's not uncommon for accepted applicants to be placed onto a waitlist until housing vouchers are available!
Children's Health Insurance Program (CHIP)
Finally, on this list of additional assistance opportunities to consider is CHIP. CHIP is a program that can help families that make too much to qualify for other government healthcare programs like Medicaid but don't make enough to afford the cost of private insurance through the marketplace. This program can help people by providing discounted health coverage to children up to 19 years old!
Bottom Line
There are plenty of different ways that you can save during Easter. Besides personal saving tips, you may benefit from checking out local assistance opportunities. There may be seasonal programs that can help those in need around the holidays. Besides benefiting from programs and savings during Easter, there are other programs available all year long that may be able to help. Programs like SNAP, the Housing Choice Voucher Program, and CHIP are all options that are worth considering because they can provide support and could help you handle the expenses of life.