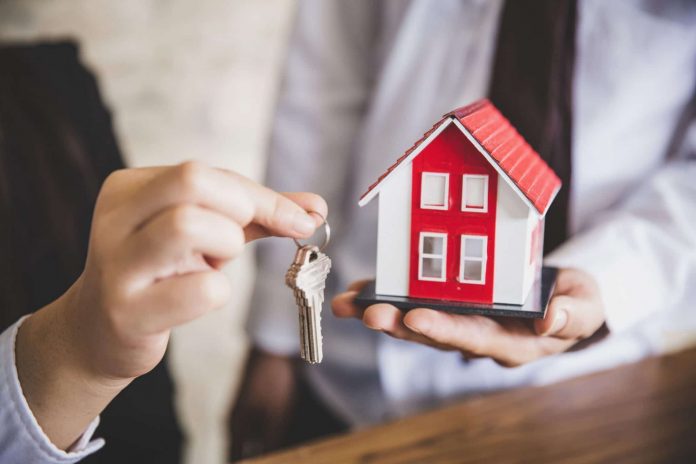 According to the Department of Housing and Urban Development (HUD),  affordable housing should be less than 30% of a person's income. However, the government knows it can be hard to get affordable housing. They have created HUD housing help to aid in providing affordable housing options. These HUD housing assistance programs are designed to provide low-income Americans with an affordable option. This is applicable for whether they want to buy or rent a home.
There are many HUD home assistance programs. However, one of the most common methods is through foreclosed homes. HUD will feature foreclosed properties and put them up for sale. When applying for HUD housing assistance, applicants can purchase these houses through an HUD-approved broker.
Another popular affordable housing option is their Section 8 Program. Section 8 is a HUD housing voucher program that offers assistance to qualifying low-income applicants. This program provides vouchers for a set amount that can help with the costs of housing. Applicants interested in Section 8 assistance need to contact their local public housing authority (PHA).
Foreclosed homes sound like a bad thing, but they are actually very efficient. You are now able to purchase a foreclosed home for your forever home. The Housing and Urban Development Department can provide you with a listing of foreclosed homes that could suit your needs.
But, first and foremost, what are foreclosed homes and how can you buy one?
What is a Foreclosed Home?
Foreclosure is a legal procedure where the lender tries to recover the amount they owe for a defaulted loan. The lender can do this through the ownership of a mortgaged property and selling it. Mostly, foreclosed homes are a byproduct of a borrower who has put their homes up as collateral. There are two conditions that could lead to a default loan. The first condition is when borrowers have missed a specific number of monthly payments. Another condition is when the borrower does not meet other terms in the mortgage document.
With foreclosure, the process is different from one state to another. For foreclosure to take place, it takes about 673 days. You might find that the timeline differs from one state to another, as well. But, generally, lenders do their best to prevent borrowers from facing foreclosure. Most lenders try to make sure that borrowers catch up on their payments and stay on track. (Chen)
Where to Find Housing and Urban Development Housing (Foreclosed Homes)
A lot of people can feel overwhelmed when trying to find HUD Housing assistance options. You might be even more overwhelmed to find options that will work for your situation. Luckily, that doesn't need to be the case. Now, you can view listings through the HUD Home Store. This "store" will show the newest available listings for all different types of properties. You can look for a foreclosed home on the HUD Home Store. Fortunately, you can filter your options by the location, number of bedrooms, price, and more, so you do not get lost in the sea of properties
Once you have reviewed a list of HUD housing options, then you can clean up your search. You will want to speak to a local mortgage broker and/or a realtor to see what other information is available on the home. Also, you can learn from them about financing options, as well.
There are different HUD home-buying assistance programs that are available, which can help you to get an affordable HUD home. The "Good Neighbor Next Door" program offers a 50% price reduction to applicants that are teachers or first responders. The program will only be applicable if the applicant purchases a home in "revitalization areas". The person you choose to help with this process (whether a realtor or mortgage broker) will be able to assist you to see if you qualify for programs like this with the home that you are interested in.
What to Know About Bidding on Housing and Urban Development Housing
Once you find a home that you are interested in, a licensed HUD broker is the first person you should reach out to. This broker will be able to bid on the property. The only way you will be able to get the HUD housing you are interested in is if you are able to afford the property and qualify for financing. Make sure that you keep in mind that the HUD will not be able to provide you a loan. Instead, you will need to look at financing programs available like a Federal Housing Administration (FHA) loan.
Many people look at this loan option, because it only requires 3.5% down and a minimum credit score of 580. However, if a person wins a bid but does not qualify for financing, then they will move on to the next highest bidder.
This means that you must be able to afford the foreclosed before planning on purchasing it. As you look for the foreclosed home you are interested in, it is up to you to arrange your finances. Foreclosed homes are much cheaper, even though purchasing a home is not an easy decision to make. Before taking the step to bid on a foreclosed home, your job is to look through your finances and establish a budget that will help you bid on your potential home. (Esajin)
How to Properly Finance a Housing and Urban Development Home
FHA loans are typically the most common form of financing for people that are interested in getting an HUD house. Federal Housing Administration loans will help you to buy the home. However, an FHA loan takes into consideration  many different aspects when dealing with financing candidates:
        Financial History
        Employment History
        Credit Score
        Debt-to-Income Ratio
        Plans for the Property
You will find other requirements that you need to meet, in order to qualify as a candidate. However, these are the main components that will decide how easy it will be for you to get financing, if you are able to get any at all. There are also private lenders that you may want to consider, in the case that there are not any federal financing options that work for you. Before you finalize any purchases, you want to make sure your home has been professionally inspected. The most common issues that are found in foreclosed homes are:
        The Roof
        The Walls
        The Floor
        The Foundation
        The Plumbing
        The Basement
        The Electrical System
        The Heating and Cooling System
Risks of Purchasing Foreclosed Homes
There are certain risks that come with purchasing foreclosed homes, just like anything else. With foreclosed homes, there are four main concerns. Those concerns are: property issues, underlying costs, slow process, and a competitive market.
The first concern is the property that you are thinking of purchasing. The foreclosed home that you are interested in might still be occupied. In that case, the property might not be in the best condition. There is a possibility that if the owners of the home could not keep up with their monthly payments, then they could not pay for the home's upkeep, as well. Also, the owners of the home could possibly take out their frustrations on losing their homes on the property itself. It might not be the most grown-up solution, but it is cathartic for them. This could include damaging the property or removing appliances and fixtures of the home.
The second concern is the underlying costs that come with purchasing a foreclosed home. Back taxes and liens can be attached to the bid for the foreclosed home. The Internal Revenue Service (IRS), state creditors, or other creditors could issue these underlying costs. No matter what the costs are, the federal government requires them to be paid and all funds be settled before you can purchase a foreclosed home. But, this normally applies to properties that are auctioned off, while banks pay off any liens that are linked to the property. (Segal)
What Else?
The third concern is the slow process of purchasing a foreclosed home. To buy a foreclosed home, it requires massive amounts of paperwork. Generally, foreclosures will have additional documents to prepare for the closing process. These documents are not always punctual, which will backfire to your purchase. Also, if there is any serious damage to the property, then this could lead to a lower home appraisal. This could affect your ability to secure a loan on the foreclosed home.
Finally, you will find that the purchase of foreclosed homes has a competitive market. Due to its reduced price, then the demand of the homes will soar. You will find that it is inevitable for competition to appear when dealing with foreclosed homes. Typically, foreclosed homes are priced lower than other residential properties in the area. When that happens, offers start pouring in and a bidding war begins. This is when the price on a foreclosed home can increase significantly, due to the increased interest. (Segal)
Understanding Section 8 Vouchers
Since the HUD wants to offer a variety of options, they also have Section 8 HUD homes for rent, if a person is not interested in buying a home. Section 8 is another name for the Housing Choice Voucher Program. This program will provide a voucher that covers any additional costs past 30% of a person's income. For example, if a person makes $1,000 a month, then $300 of their income needs to go towards the cost of housing. The voucher will cover the remaining amount. The application you send in determines the amount of the housing voucher. Aspects like median income of the area you are looking to live in, family size, your income, etc. will determine the amount of financial need.
Process of Getting Section 8 Assistance
You will need to fill out a free application from your local PHA. If you are  accepted, there is a possibility that you will be waitlisted. Waiting lists vary depending on the area you are in. However, there is currently an affordable housing crisis. So the faster you get on those lists, the better it is for you. Once finished with the waiting list, you will be awarded a voucher based on the application you submitted. You will be able to move to any property that accepts housing vouchers. However, by law, an apartment complex does not have to accept that type of payment from a tenant. You will need to find a property that not only accepts housing vouchers, but also passes an inspection as well. Once approved, the tenant, the landlord, and the local public housing authority all have a role to play.
The tenant must follow the rules of the lease and pay their portion of rent on time. The local Public Housing Authority must pay their portion of the rent on time and conduct inspections of the property to make sure it is up to code. Finally, the landlord must continue to provide housing that reaches the public housing authority's standards.
Overall
Foreclosed homes are properties that are auctioned off after the owner of the house failed to pay the monthly payments for the mortgage. Additionally, if the owner of the house does not meet the requirements of the mortgage documents, then the property is auctioned off. You can find different properties that are up for sale on the Housing and Urban Development Department Home Store. Before you bid on a foreclosed home, you should be able to afford the home in question and qualify for financing. You should keep in mind that the Housing and Urban Development Department does not provide for you a loan, but you can always apply for a Federal Housing Administration loan.
There are many affordable HUD and Section 8 housing options available. It is important to take your time and find what option would be best for you and your situation. If you have any questions, you can reach out to your local public housing authority and they will be able to provide you the assistance you need!
Works Cited
Chen, James. Foreclosure. 21 01 2021. 19 07 2021 <https://www.investopedia.com/terms/f/foreclosure.asp#what-is-foreclosure>.
Esajin, Paul. HUD Homes 101. n.d. 19 07 2021 <https://www.fortunebuilders.com/hud-homes/>.
Segal, Troy. Buying a Foreclosed Home. 23 05 2021. 19 07 2021 <https://www.investopedia.com/investing/buying-foreclosed-home/#risks-of-buying-foreclosed-homes>.