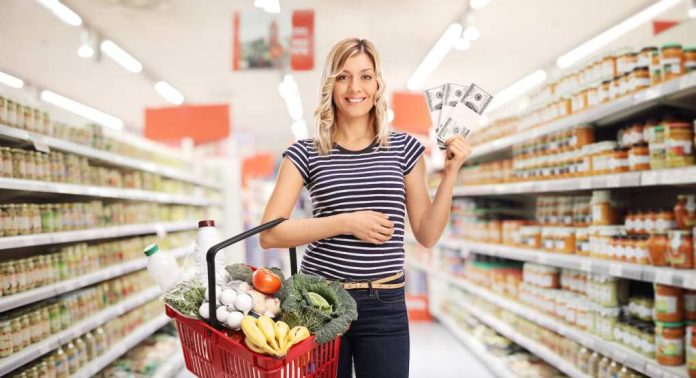 People need to eat in order to survive. However, when people are dealing with financial hardship, affording groceries may be hard to do. Many Americans find themselves choosing to pay for housing costs and other bills instead of buying food. That is why the government created a nutrition assistance program to help those in need. The Supplemental Nutrition Assistance Program (SNAP) is a federal assistance program that can help.
Commonly referred to as food stamps, SNAP can help give nutritional support to eligible low-income households. This includes families, seniors, those with disabilities, and more. Even though this program is beneficial to a variety of people, a majority of the recipients are families with children. This is a government program so that means that it is federally funded and the government splits the cost of providing the program with states (since they are the ones who operate it). If approved to receive SNAP benefits, recipients will get an Electronic Benefit Transfer (EBT) card that receives money every month. The funds received can be used at locations that accept this as a form of payment. You will know how long you will receive benefits if you qualify for this assistance option.
SNAP Eligibility
A lot of Americans like the help they receive from SNAP just because it makes dealing with the cost of groceries easier to manage. A general rule of thumb to keep in mind is that the qualification guidelines and benefit levels are broadly set across the United States. States do have the ability to update parts of the program as well since they operate it!
If you are interested in checking your eligibility you will need to get in touch with your state agency. They are the ones that determine whether or not you qualify to receive SNAP assistance. These applications are free and if approved you will receive benefits back from the date that you submitted your application. This means the sooner the better! Even though the state determines eligibility, you can expect to see that recipients will be prioritized based on need. Households that are extremely low-income will get more assistance compared to households that are less low-income.
Ineligibility for SNAP is important to keep in mind because it may also be relevant to your situation. People may be able to assume themselves as ineligible. That is because most college students, some legal immigrants, and those on strike due to a labor dispute will not be able to receive this assistance option regardless of their income. However, even if you think you may not be eligible, it doesn't hurt to submit an application! The applications are free and the worst that can happen is you are deemed ineligible to receive benefits.
SNAP Restrictions
Just like any federal assistance program, there are restrictions on benefits that households can receive. However, every situation is unique so to confirm the status for yourself,  you need to get in touch with a professional! A limitation you may encounter is a majority of childless adults can receive up to three months of benefits (unless they work a minimum of 20 hours a week or participate in eligible programs). States can also choose to impose other limitations, work requirements, guidelines, etc., when it comes to SNAP benefits.
How Much Can You Expect to Get?
SNAP benefits that you receive are referred to as an allotment. Generally, benefits are calculated by taking into consideration that the recipient will spend 30% of their own income towards food. The United States Department of Agriculture (USDA) has a website where people can view the maximum SNAP benefits, which vary based on household size. For example, from October 1, 2023, to September 30, 2024, a household of 1 can receive up to $291. Meanwhile, a household of 3 can get $766, and a household of 5 can get $1,155.
How to Apply for SNAP Benefits?
Like we said earlier even though it is a federally funded program it is operated by the state. This means that states have their own unique application process which may be different from one state to another. That is why you will need to apply for SNAP in the state that you currently live in. To begin the process you will need to get in touch with your state agency. You can do this through many different means! You can:
Visit your local SNAP office
Go to your state agency's website
Call your state's SNAP toll-free number
Depending on your state you may be able to fill out an online application instead of a physical one! So make sure to review your options when you begin the application process.
Once you submit an application you can expect to find out whether or not you are eligible to receive benefits typically within 30 days. Within the time that your application is getting processed you will have to finish an eligibility interview and provide income verification. This will ensure that the details you submitted on your application were accurate. Interview protocols vary by state but are usually either in-person or over the phone.
Some individuals may be able to receive benefits sooner than that 30 day mark! Instead, some recipients may be able to receive SNAP assistance within just 7 days of the date on their application if they meet other eligibility requirements.
What Can SNAP Buy?
There are restrictions on what you can use the SNAP benefit funds on. You can expect to be able to purchase groceries like:
Meat
Poultry
Fish
Fruits
Vegetables
Dairy products
Bread
Cereal
Snack foods
Non-alcoholic beverages
Seeds and/or plants that produce food for the household to eat
Other foods similar to the ones mentioned above
Unfortunately, SNAP funds cannot purchase every type of grocery. Some ineligible items include:
Alcoholic beverages like beer, wine, liquor
Tobacco products like cigarettes
Vitamins
Medicines
Supplements
Live animals (except shellfish, fish removed from water, and animals slaughtered before store pick-up)
Non-food items
Overall
The Supplemental Nutrition Assistance Program (SNAP) is a popular assistance option that can benefit many people who deal with financial hardship. Even though it is a federally funded program, the states operate it. That means that in order to begin the application process you will need to get in touch with your state's agency. From there you can expect to find out your application status within 30 days. If approved you will receive a monthly amount of money on an Electronic Benefit Transfer (EBT) card that automatically gets refilled every month until your benefits expire. The amount you receive is based on many factors like your household size, income level, etc. For any other questions you should reach out to your state's agency so that they can clarify information for individuals who live in your state!
The information in this article is for Oct. 1, 2023, through Sept. 30, 2024.