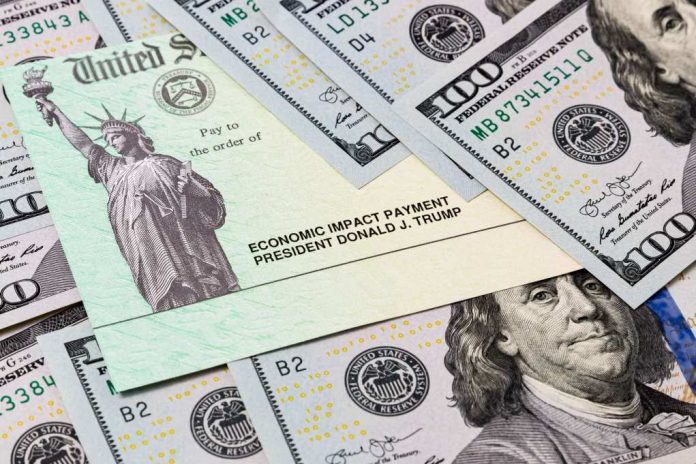 Many Americans were able to benefit from the 3 rounds of stimulus checks that they received. However, not everyone realizes that they may be entitled to even more stimulus assistance in 2022. In fact, some Americans can expect to receive a stimulus for up to $1,400 thanks to their tax return in 2022. Not everyone can receive this stimulus assistance! However, the American Rescue Plan allows those that had a child born in 2021 or those that claim a dependent on their taxes to have this opportunity of a 4th stimulus payment!
How to Get a $1,400 Stimulus in 2022?
When eligible individuals received the third stimulus payment, they basically received a part of their tax refund a year earlier than they should have. The third stimulus payment is known as the 2021 Economic Impact Payment (EIP). This 2021 EIP was actually an advance on the 2021 Recovery Rebate Credit! This Recovery Rebate Credit will be where you can get your additional stimulus. Even though it is based for the year 2021, it will be provided during tax season of 2022.
Who Qualifies for the Recovery Rebate Credit
Those that are eligible to receive this credit will need to meet qualifying criteria like:
Dependents must be younger than 19 years old at the end of the year unless they are a student
Dependents can be any age if they are permanently disabled
There must be a specific relationship of the dependent and the tax filer as a child, brother, sister, foster child, stepbrother, stepsister, half-brother, half-sister, or a descendent of any of them
Adjusted gross income for an individual should be under $75,000 while adjusted gross income for a married couple filing jointly should be under $150,000
If eligible for this credit it may be able to reduce any tax you owe for 2021 or be included in your tax refund!
Are There Other Stimulus Payments Besides the Recovery Rebate Credit?
Some Americans may also be eligible to receive an unrelated fourth stimulus payment depending on the state they live in. Some of the payments have already been issued (but not all of them!). Even though there are no signs that congress would roll out another set of direct stimulus payments nationwide, a few states didn't agree with that decision. Some states that plan on another 4th stimulus payment include:
Arizona
Individuals may be able to receive $2,000 if they get a job after receiving unemployment benefits during a certain timeframe. Also referred to as the Return-to-Work bonus, this stimulus has eligibility criteria that Arizona residents must meet. The information people provide must also be verifiable!
California
California is known for many things. They can add providing eligible recipients another round of stimulus payments to that list! Qualifying middle-class families can receive up to $1,100. The first $600 goes to families that meet a certain set of criteria. Those same families can receive an extra $500 if they have kids.
Florida
Eligible first responders may receive up to $1,000 through the Florida's Heroes Initiative. First responders can include paramedics, EMTs, firefighters, and police officers. Besides first responders, principals and teachers may also be eligible to receive disaster relief payments of up to $1,000.
Georgia
Full-time teachers may be able to receive checks worth $2,000. Part-time teachers may also be able to receive $1,000. While the payments don't extend to pre-K educators, there are plans to change that!
Maine
Maine is giving out disaster relief payments to those who worked throughout 2020. The payments are worth $285 and are issued by the Department of Administrative and Financial Services (DAFS). There will be qualifying criteria that people must meet in order to receive these funds. The funds will be delivered in the form of a mailed check!
Maryland
Thanks to the Maryland Relief Act of 2021 eligible families can receive up to $500 if they filed for the Earned Income Tax Credit. Individuals would only be entitled to up to $300 if they filed for the Earned Income Tax Credit. Recipients would not need to apply in order to receive the funds!
Michigan
Full-time child care professionals can receive bonuses worth $1,000 thanks to the Child Care Stabilization Grant. Childcare professionals will receive these bonuses through their employer so they do not need to apply!
New Mexico
3,286 low income households in New Mexico should have received a stimulus payment of $452 earlier this year. This is due to the fact that some low-income households weren't eligible to receive a round of federal stimulus payments.
Tennessee
Teachers can receive a fourth stimulus payment in Tennessee. However, the amount they will be able to get varies by district! If you think you may be eligible, you will want to check with your locality for more information.
Vermont
Vermont has been a state that wants to help it's residents as much as they can. Earlier on in the pandemic (back in January 2021) frontline workers received payments of up to $2,000 thanks to the Frontline Employees Hazard Pay Grant Program. This program has ended but that doesn't mean Vermont is done providing assistance opportunities!
Unlike other opportunities on this list, Vermont wants people to move to their state. If you decide to move here, you can be reimbursed for up to $7,500 for eligible moving expenses. This is only available to those that work in certain industries.
What to Do if You Won't Get a Fourth Stimulus?
Even though there are plenty of ways that people can get a 4th stimulus payment or other assistance, you may not qualify for any of the opportunities. If that's the case, and you still need financial assistance, there are other options that may be able to help. You can look at other government programs that can assist with some of your bills like:
Supplemental Nutrition Assistance Program (SNAP)
Medicaid
Health insurance is an expensive cost for many Americans. It can be hard to deal with on a monthly basis! That is where Medicaid can help. Medicaid gives health coverage to eligible low-income adults and children. This includes pregnant women, senior citizens, and those with disabilities. States are the ones that provide this assistance in accordance with federal requirements!
Supplemental Nutrition Assistance Program (SNAP)
Groceries are another necessary bill that Americans have to deal with. It can be hard to cover the cost of groceries on top of other bills like housing, utilities, etc. That is why people aim to get help from SNAP. This federal program gives funds to recipients on an Electronic Benefits Transfer (EBT) card. An EBT card can only be used at locations that accept them as a form of payment. The amount a person will be able to receive varies based on personal information!
Housing Choice Voucher Program 
Another expense that people need to deal with is the cost of housing. The Housing Choice Voucher Program (also known as section 8) can give housing vouchers to eligible low-income individuals. These vouchers will be for a specific amount and can go towards the cost of rent and even utilities. Just like the EBT card, these vouchers can only be used at properties that accept them as a form of payment. Your local public housing authority (PHA) will be the ones to help you with this assistance option.
Overall
There are plenty of opportunities for people to get a fourth stimulus payment. Whether they can get it from the Recovery Rebate Tax Credit or through their state, there are more options than you may realize. As the COVID pandemic continues there may even be more opportunities for additional stimulus assistance.