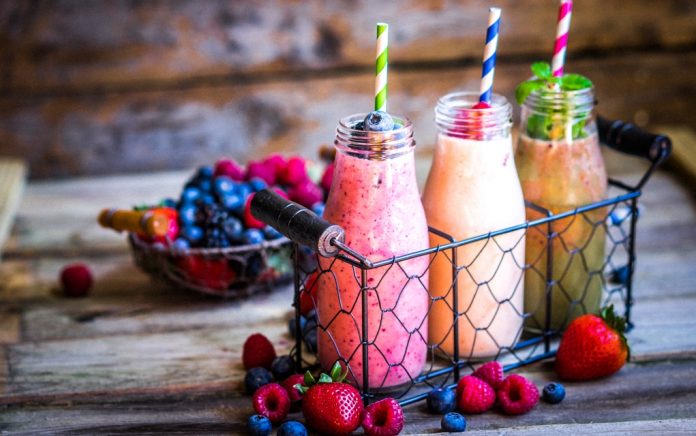 (DailyProsper.com) –  Food is powerful. It keeps you alive, for one, but it also can make you feel smart and energetic or sluggish and out of it. It all comes down to the choices you make. If you want to feel your very best, choose energy-boosting foods, such as sweet potatoes, apples, bananas, spinach, oranges, blueberries and avocados. Better yet, put them in a smoothie! Check out these easy, super-charged recipes to get some ideas.
Very Berry
Do you love everything berry? If so, you're in for a treat. This refreshing berry smoothie from Deliciously Sprinkled combines strawberries, blueberries, blackberries and yogurt to create a tasty drink. Blueberries and blackberries, as well as other dark berries, are great energy boosters. They're also packed with antioxidants, which fight inflammation and fatigue.
2 cups orange juice
1 cup yogurt (any flavor)
1/2 teaspoon vanilla extract
2 cups frozen berries
Ice cubes (if you use fresh berries)
Chocolate Banana
Chocolate shake cravings are well met with running on REAL FOOD's chocolate banana smoothie. Containing cocoa powder, protein powder, bananas, almond milk and flax and chia seeds, this concoction is a great source of omega-3 fatty acids, protein and fiber. According to eatright, lean protein and fiber-rich carbohydrates provide long-lasting energy.
1 frozen banana
2 tablespoons cocoa powder
1 tablespoon chia seeds
1 tablespoon ground flax
1 handful of your choice of greens
1/2 teaspoon sea salt
1 serving vanilla protein powder
1 1/2 cups unsweetened almond milk
1 teaspoon gelatinized maca powder
Green Smoothie
If you prefer a green, veggie-based smoothie, check out this recipe from Spend with Pennies. This surprisingly tasty recipe combines fruit, greens and a few other ingredients for a drink packed with protein, complex carbs and B vitamins, all of which are vital for energy and brain function.
1/2 cup plain or Greek yogurt
2 cups chopped kale
1 banana
1 cup pineapple
1 tablespoon flax seeds
1 cup milk
Honey (optional)
Mango Strawberry
Cleveland Clinic's mango strawberry smoothie is divine. It combines fruits and berries with kale, green tea and a few other surprises. The fruit components are sweet and refreshing, and the green tea will give you a quick boost of energy. Try it to get you awake and moving in the morning or to push yourself through the afternoon slump.
1 cup fresh strawberries
1/2 cup frozen mango
1/4 cup red grapes
1/4 cup frozen peaches
1/4 cup kale
1/4 cup chopped carrot
1/4 cup red bell pepper
1 tablespoon nonfat Greek yogurt
1/4 cup green tea
1 teaspoon chia seeds
Orange Peach
Packed with vitamin C and other essential nutrients, the orange peach smoothie from Mel's Kitchen Cafe contains orange juice, peach yogurt, sliced peaches, honey and nutmeg. Known for its antioxidant properties, vitamin C also plays a role in energy production at the cellular level.
2 cups orange juice
1 cup peach yogurt
2 cups frozen peaches
2 tablespoons honey
1/4 teaspoon ground nutmeg
Sweet Potato
Sweet potatoes are great for energy. If you want to get a dose of it from a smoothie, try Ready to Yumble's recipe, which blends sweet potatoes with a rich combination of ingredients to create a filling, savory snack.
1 cup frozen (previously roasted) sweet potatoes
1 1/2 cups milk
1 scoop protein powder
2 teaspoons espresso powder or coffee
1/2 teaspoon cinnamon (or more if you want)
1 teaspoon vanilla
Which one will you try first? Can't decide? No worries! There are enough days in the week to try them all. And when you've tried all of these, there are dozens of other recipes for energy-boosting smoothies online. The options and combinations are endless.
~Here's to Your Success!
Copyright 2019, DailyProsper.com